The pelvic floor is something that is often overlooked but which needs training just like any other muscle in the body. Due to a number of factors, such as the body's normal ageing, childbirth, or menopause, the pelvic floor muscles decondition, and in turn, ineffectively supports the pelvic organs. This leads to urinary incontinence and a decreased sexual satisfaction.
If you find that you are affected by the above, BTL EMSELLA offers the perfect and easiest solution to strengthening your pelvic floor. This is an entirely non-invasive procedure: so non-invasive that you don't even have to get undressed!
At Adonia Medical Clinic, we now offer this novel treatment which only takes up a mere half hour of your time.
What is BTL EMSELLA?
BTL EMSELLA represents a new category of technology with its novel high intensity focused electromagnetic (HIFEM) machinery.
The EMSELLA Chair uses electromagnetic energy to cause deep pelvic floor stimulation for the treatment of incontinence and other pelvic floor related disorders. A single EMSELLA session brings thousands of Kegel-like contractions, which help you train your pelvic floor muscles without any effort. No other procedure is able to treat the pelvic floor as deeply as this, and with such ease and comfort. Even endless Kegel exercises wouldn't be as effective as EMSELLA.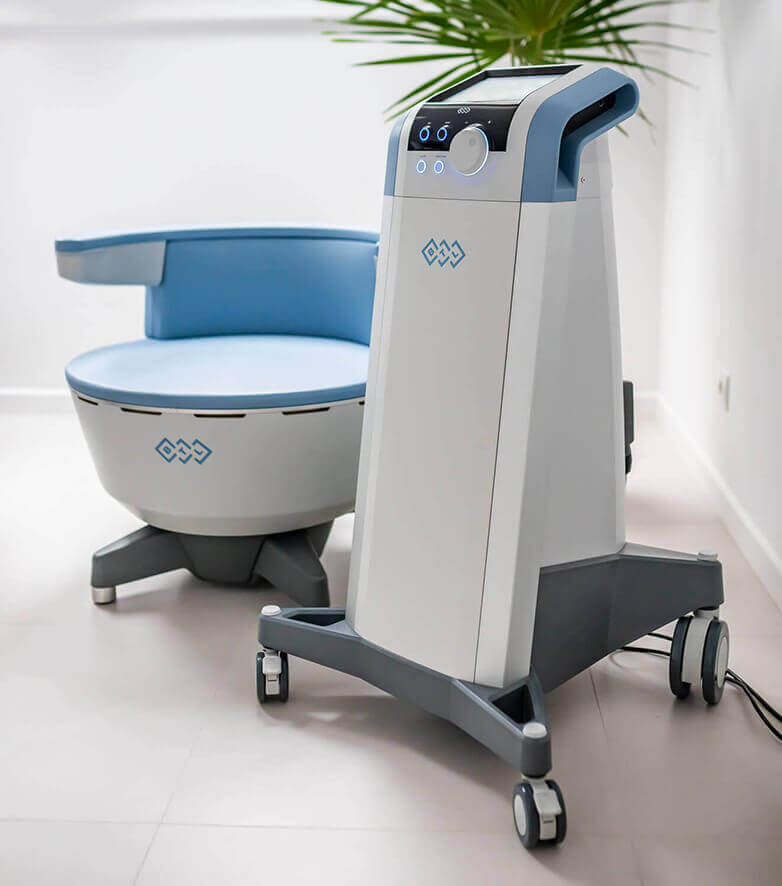 Am I the right candidate for EMSELLA?
Do you find that you need to go to the bathroom often?
Do you leak urine when you cough, sneeze, or engage in sports activities?
Have you refrained from intimate life in the last months out of insecurity?
…then this treatment is for you
If the above holds true for you, then this procedure would provide major benefits, bringing you confidence to lead you to a happier and more fulfilled life!
How does the procedure work exactly?
The EMSELLA delivers its HIFEM technology through simply sitting on a chair. The best part of this treatment is that it is entirely painless, it merely feels like an intense pelvic floor workout, and with absolutely no downtime. The procedure only lasts 28 minutes, and then you can get back to any daily activity immediately following the procedure. It is completely effortless; you simply sit on the BTL EMSELLA Chair and relax during the treatment.
In general, patients begin to feel tangible results right after the treatment – though this may vary depending on your age, physical condition, and other aspects. These positive results typically enhance over the next few weeks. We recommend booking in twice a week for three weeks to see the best results.
Benefits of BTL EMSELLA
A non-invasive procedure with zero recovery time.
You remain fully clothed during the treatment.
Bladder and pelvic muscle control is restored without the need for time-consuming exercises.
A comfortable procedure where you can relax during the 28-minute treatment.
Noticeable improvement after a single session. Results will continue to improve over the following weeks.
Results are best seen after six sessions, scheduled twice a week.
Book Your Treatment Today
Get in touch with our Central London clinic to discover what we can do for you.
Call: 020.3875.7399
Email: info@adoniamedicalclinic.co.uk